Join The Fashion Class this summer
NYC's only fashion design and sewing camp for teens that teaches both sewing and the business side of fashion. No sewing experience required.
The Fashion Class is a fashion-program that teaches teens sewing, draping, marketing and merchandising all throughout the school year and summer. We have our own loft style studio featuring a sewing room, art room, two bathrooms and lunch room. Our summer camp instructors are graduates of fashion and art programs at some of the best fashion schools in the world, like Parsons the New School of Design and the Fashion Institute of Technology. The Fashion Class has been featured in New York Magazine, NY1, Time Out NY Kids, Pix 11 News and Newsday as a top place for sewing and fashion design!
Located in the heart of NYC's garment center, our fashion camp is for serious fashionistas who want to make their designs and dreams a reality!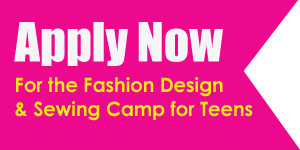 Save
Save
Save
Save
Save
Save
Save